Afrikanet worked with Infocom, an Internet services provider in Uganda, and helped them to develop a wide Internet network on 4 sites.
About the company:
Infocom is a Limited Liability company registered in Uganda, whose goal is to integrate communication solutions with a wide range of products and services. Born of a merger between Uganda's internet pioneers Infomail and Starcom, Infocom has over 15 years of experience in providing Internet services in Uganda. Remaining a market leader in this competitive field, Infocom has grown both in technical operations and client base.

AFRIKANET solution:
Infocom's desire was to connect its four sites with a satellite connexion in order to have bandwidth but they needed the help of experts, who would helped them in the implementation of these projects. Thus, in January 2012, Afrikanet helped them realize their wish and connected three of Infocom's sites on a C-Band satellite connexion and one site on a NSS12 Ku-Band satellite connexion. This satellite coverage gave them access to bandwidth for all sites. This partnership, lasting over 2 years (January 2012 – July 2014) has strengthen Afrikanet's commitment to work for the spread of Internet in Africa.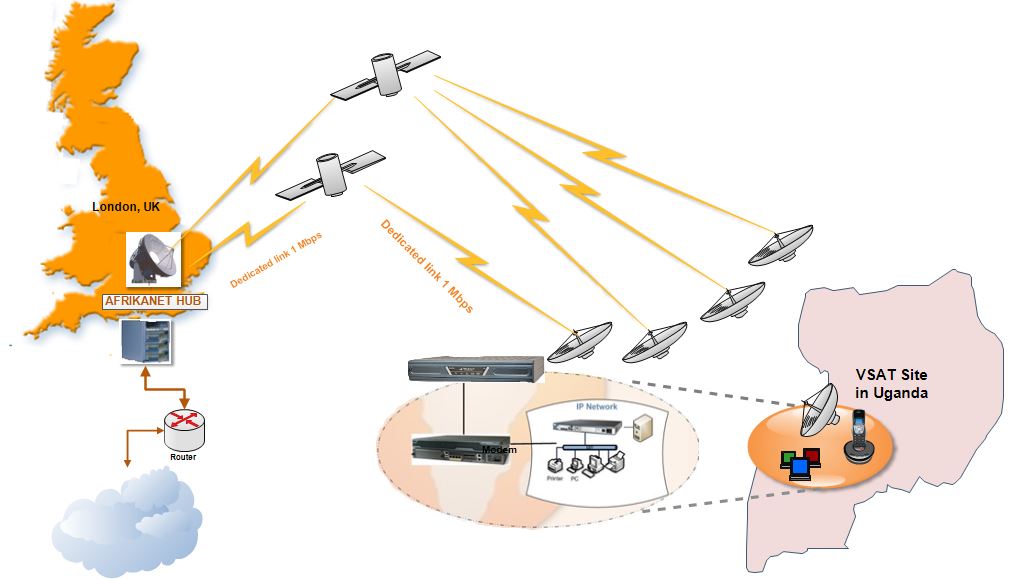 Our VSAT equipment is composed of different dish sizes from 1.2m to 1.8m, an iDirect X3 modem, 3 or 5 watt BUC, LNB, and other cables and connectors. Additional products might be added if needed such as Wlan products: WiFi and Wimax devices.
For more information about VSAT do not hesitate to contact us.