AFRIKANET and ARTI are now connected airports across Côte d'Ivoire with the company Sodexam from 2015 to 2018.
About the project:
SODEXAM is a state-owned company with a capital of 1.000.000.000 FCFA which missions are controlling and managing 15 airports in Ivory Coast. The company is responsible for:
– The implementation of the legislation on the Civil Aviation and Meteorology, particularly in the areas of following activities: Air navigation / Aerodromes / Airport safety and facilitation / Aviation and airport Medicine,
– Meteorology and areas relating thereto;
– The provision of aeronautical, airport and weather to meet the needs of the community while ensuring efficiency, safety, and regularity
– Monitoring and control of airport concessions
– Airport development, aviation and meteorology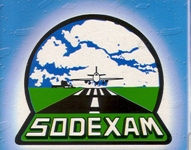 SODEXAM recently open a new airport in Korgoho which is the 5th biggest airport of the country. To be truly attractive and have a competitive advantage to grow bigger and stronger Korhogo airport needed a fast and reliable Internet connection.
 "The opening of the Korhogo airport by our minister of transports on 15th of November has been a success. The general impression has been very good", said Mr Mamadou Diabaté, Chief of the Main Information System Department at SODEXAM.
AFRIKANET solution:
AFRIKANET is supplying Internet to 14 different airports in 14 different cities separated and 2 different services!
– San Pedro, Tabou, Daloa, Yamoussouko, Sassamdra, Gagnao, Dimboko, Bondoukou and Adiake are fully equipped with a VSAT equipment and a Ku-band broadcast on satellite T-11N
– Abidjan, Bouake, Khorogo, Odienne and Man are fully operational under a VSAT equipment + C-band operated under AMOS 5 satellite.
Our VSAT equipment is composed of different dish sizes from 1.2m to 1.8m, an iDirect X3 modem, 3 or 5 watt BUC, LNB, and other cables and connectors. Additional products might be added if needed such as Wlan products: WiFi and Wimax devices.
AFRIKANET also provides VSAT training to SODEXAM technicians to help them to be 100% independent: install new equipment and maintain equipment.
Our VSAT training grants you access to a GVF certification with different degrees of graduations depending on your needs.
Our commitment to spread Internet across Côte d'Ivoire made possible this project to see light. Nowadays Sodexam can organized better its activity, offer a qualitative service to its travelers AFRIKANET and its partners were deeply committed together on the telecommunication part of this great project.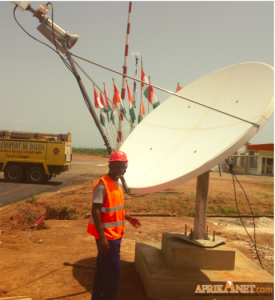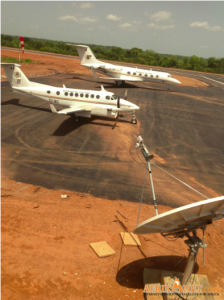 "The collaboration with Afrikanet in order to provide us Internet per satellite with a high speed is outstanding and the next airports to link will be developed on the same basis", added Mr Diabaté
For more info about VSAT product and VSAT training do not hesitate to contact us.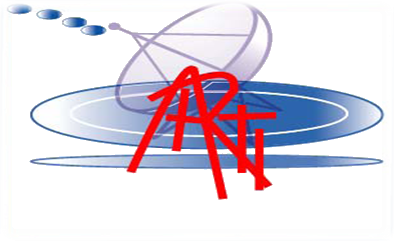 ARTI – COTE D'IVOIRE-
01 BP 13042 Abidjan 01
Abidjan – COTE D'IVOIRE
Tel: +225  77 73 92 71